The Public announces its new leadership team
Marya Sea Kaminski selected as Artistic Director and Louis A. Castelli named Managing Director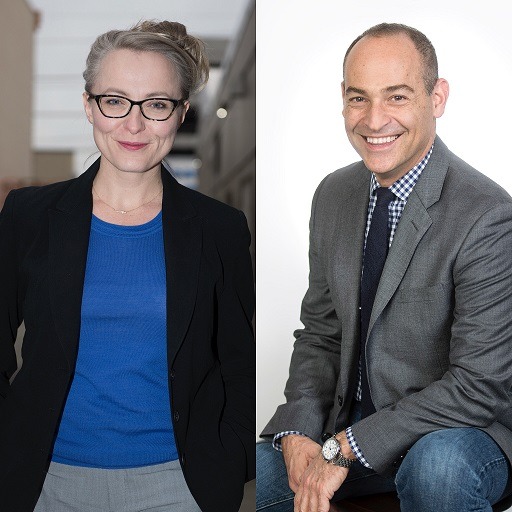 Board Chair Michael H. Ginsberg announced the team that will lead Pittsburgh Public Theater when Producing Artistic Director Ted Pappas departs this August after 18 seasons. Named Artistic Director is Marya Sea Kaminski, the current Associate Artistic Director at Seattle Repertory Theatre. Promoted to Managing Director is Louis A. Castelli, who has been with Pittsburgh Public Theater for 20 years.
Regarding the appointments, Ginsberg says "After 18 years of Ted Pappas creating beautiful productions of the highest quality while remaining fiscally responsible, we begin this transition stronger than ever. After a nationwide search, we are fortunate to have hired as our Artistic Director one of the most dynamic artistic leaders in the country, Marya Sea Kaminski. As a director, producer, actor, and writer, Marya has received high praise in each of these disciplines. She brings with her the focus, experience, and enthusiasm to reach new and diverse audiences for the arts which are so necessary as we work to expand the reach of The Public. To partner with Marya, we have promoted Lou Castelli to be Managing Director. Lou is the most senior member of The Public's staff, and has long worked in tandem with Ted to select, budget, and manage our seasons. The Board of Trustees and I have enormous confidence in Lou's ability to keep a steady hand on The Public's tiller as we move ahead. The Board of Trustees is brimming with enthusiasm about what the next years will bring.
Pappas concurs: "Both are phenomenal choices and give us all supreme confidence that The Public's reputation for gorgeous and engaging theater, produced with fiscal integrity, will continue unabated, and that unprecedented adventures are in store."
Marya Sea Kaminski is a director, writer, and producer who believes that theater is not only an artistic but also a civic act. She has dedicated her career to developing a versatile, comprehensive expertise in crafting theater experiences that delight and challenge audiences by prioritizing both imagination and integrity, both high art and collective joy. "I am incredibly inspired by Pittsburgh Public Theater's legacy of creating exquisite productions with gifted artists, both nationally and locally, and I have a terrific crush on the city of Pittsburgh," Kaminski says. "I look forward to connecting to both the artists and the audiences there, and to collaborating with The Public's staff, Board, and creative community to build on the theater's tremendous legacy in new and exciting ways. I cannot wait to get to work," she says.
Kaminski co-founded the Washington Ensemble Theatre in 2004 and served as Co-Artistic Director there for five years, leading season planning and new play development during her tenure. She has served as the Associate Artistic Director at Seattle Repertory Theatre since 2014, where she spearheaded a collaboration with New York's Public Theater and Dallas Theatre Center to create Public Works Seattle, a major new initiative based on long-term, authentic partnerships between regional theaters and local non-profits to create theater of, by, and for the people. Kaminski has been honored with the Genius Award in Theater from The Stranger and has been recognized as an Artist of the Year by Seattle Magazine. She is a proud member of the Stage Directors and Choreographers Society, Actors' Equity Association, and the Society of Authors and Dramatic Composers. She holds a BA in English and Theatre Arts from the University of Pennsylvania and an MFA from the University of Washington's School of Drama. Kaminski has taught and lectured on Theatre at Hollins University, the University of Washington, and at Cornish College of the Arts, where she was awarded the Drama Department's Award for Teaching Excellence. This spring, Kaminski will be directing a workshop of Naomi Morgan's new musical, Industry, for the 5th Avenue Theatre and collaborating with Seattle's treasured performer, Felicia Loud, to develop her new musical revue Say It Loud. More at maryasea.com.
Louis A. Castelli, known to his many colleagues and friends as Lou, was born and raised in the Pittsburgh area in a large extended family. He graduated from Central Catholic High School in Oakland and Allegheny College in Meadville with a degree in Communication Arts. After a short time living in Los Angeles, Castelli returned to Pittsburgh to join the Pittsburgh Symphony Orchestra's marketing department. He stayed with the PSO for 10 years. His next move was across the river to Pittsburgh Public Theater in its first home, the Hazlett Theater on the North Side. There he was hired as Marketing Director by Stephen Klein, then-Managing Director. In this role Castelli helped facilitate the company's transition to the O'Reilly Theater in 1999 and to new leadership when Ted Pappas became Artistic Director in 2000. In 2003 when Klein left the organization, the Board combined the Artistic and Managing Director positions, naming Pappas as Producing Artistic Director. At that time Castelli was promoted to Director of External Affairs, his current title. He is in charge of Marketing, Front of House, and Box Office with the theater's earned income as his primary responsibility. Passionate about technology, Castelli has kept the organization up to date with everything from ticketing software to web site design and social media. As Managing Director, "I want to continue to bring new faces to the audience as well as the Board, and I plan to build on the company's legacy while expanding its base of support," he says. "I'm also looking forward to creating new community partnerships." Castelli is a member of the Stonewall Sports League and owns a home in Bloomfield.
Now in its 43rd season, Pittsburgh Public Theater is located in the heart of Downtown's Cultural District. Its mission is to provide artistically diverse theatrical experiences of the highest quality. Pittsburgh Public Theater also strives to serve, challenge, stimulate, and entertain while operating in a fiscally responsible manner. The Public shares its resources with the community through education and outreach initiatives intended for a wide range of people with the goal of expanding and diversifying the audience while enriching the community.